Huangjisoo Pure Perfect Cleansing Oil - Mini Size 30ml
Safe & Effective
100% Authentic from Korea
Info
Get 10% OFF your 1st Purchase when you sign up to our mailing list!
FREE Singapore Delivery for purchases above SGD50!
FREE Worldwide Delivery for purchases above SGD100!
Customer Reviews
Great for if you have sensitive skin or love oil cleansers
The Huangjisoo Pure Perfect Cleansing Oil has Jojoba Oil, Green Tea Seed Oil, Apricot Seed Oil and Evening Primrose Oil. It's also okay for Vegan use, Hypoallergenic and Super Light Weight. Interesting thing about it is it's legit pure oil, so there's no need to shake the bottle to mix whatever is inside the remover like the ones I've tried in the past. For unbeknownst-to-me reasons it also feels less oily compared to the shake-mixed kind of oil cleansers. The pros: It doesn't have any chemical smells, is an All-in-One cleaner that does Deep cleansing, Sebum control and Moisture Balance. After I applied it was able to easily remove waterproof makeup. Cons: Probably just me, but also just like the other oil cleansers I have tried, the oil gets into my eyes and coats my contact lenses. I'm probably just clumsier than the average person. All in all, a good and light oil cleanser!
Perfect size for traveling, ultra lightweight yet moisturising
Love how light weight and light scented this cleansing oil is! My skin is sensitive especially to fragrance so I really love this! It smelled so natural - exactly like jojoba and olive oil! It is low viscosity, almost like water. So I had to use more to spread over the face, and I like how it emulsifies after adding water, as it's lightweight, it's easy to rinse off and face feels very moisturised after with absolutely no oily feel!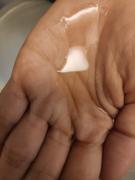 All ORDERS ARE HAND PACKED WITH CARE
100% Authentic From Korea