Carediem No.011 "No Conditioner" Shampoo
Safe & Effective
100% Authentic from Korea
Info
Get 10% OFF your 1st Purchase when you sign up to our mailing list!
FREE Singapore Delivery for purchases above SGD50!
FREE Worldwide Delivery for purchases above SGD100!
Customer Reviews
11/12/2019
Josephine .
Singapore
Carediem No.011 "No Conditioner" Shampoo
After using the shampoo, I was amazed by the result. My hair was soft and easy to comb. The smell was also refreshing.
07/13/2020
Jacelyn C.
Singapore
Carediem No.011 "No Conditioner" Shampoo
It really make my hair feel smoother and easier to comb
07/12/2020
Ho H.
Singapore
07/07/2020
Candy t.
Singapore
Sticking to this shampoo
I love trying new products but this shampoo really does what it claims. As I do not have a habit of applying conditioner and blowing my hair so it usually appears frizzy. But after using this shampoo my hair does not feels dry or as frizzy anymore.
07/07/2020
Adeline T.
Singapore
Carediem No.011 Conditioner Shampoo
The delivery was super fast! I ordered yesterday morning and received the product in the evening. I really like this shampoo as the effect is really amazing. I have super fine long hair and it gets tangled easily after washing. I tried the shampoo for the first time today without using conditioner and I was Wowed! After rinsing, my hair felt soft and conditioned, and I could comb it out really easily with my detangler brush. Even with conditioner, it will still be a fight to comb my hair with the detangler brush BUT I don't face this issue with Carediem shampoo. Now I am just waiting for my hair to dry naturally and to see the effect after. The shampoo smells great, and it has a mild minty sensation when shampooing. Will definitely reorder!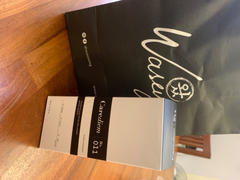 All ORDERS ARE HAND PACKED WITH CARE
100% Authentic From Korea